Rich Leotta Presented with 2018 Public Service Award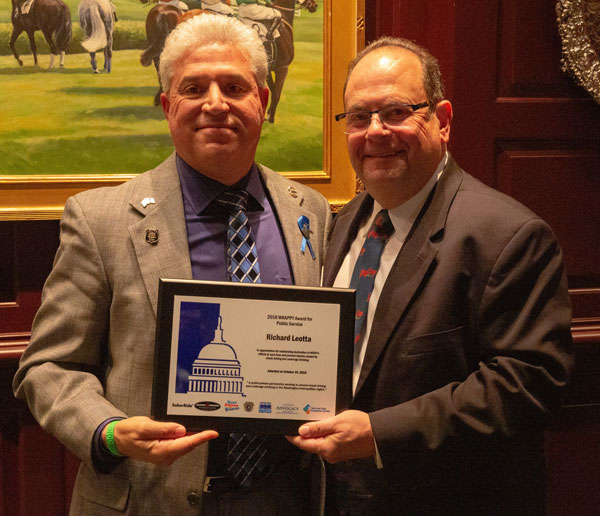 WRAP's Public Service Award is an honor annually presented to a person or persons championing lifesaving public policies aimed at deterring drunk driving and or underage drinking. This year, it is presented not to an elected official but an unparalleled anti-drunk driving advocate thrust into the position of "change agent."
He – along with his wife, Marcie, who is also with us today – unfortunately, can speak, first hand, of drunk driving's inherent dangers.
A married and dedicated father of two and former procurement director for the U.S. Department of Energy before retiring four years ago, he is perhaps best known to many of us as the father of late Montgomery County Police Officer Noah Leotta who, while patrolling for impaired drivers three years ago, was struck by an impaired driver and succumbed to his injuries a week later.
From his and his wife's Marcie's grief, he emerged as a leading force for change in combating drunk driving and in Annapolis in 2016, led the effort in Maryland enacting a law now requiring persons convicted of DUI in that state to install an ignition interlock device on their vehicles thereby preventing them from driving after drinking.
Lest anyone, however, think that he was done in combating drunk driving, he has become a juggernaut on this 100-percent preventable crime and – when not speaking about the issue via both state and national platforms – has brought a comprehensive approach to preventing drunk driving home to Montgomery County in the form of the newly created Officer Noah A. Leotta Foundation.
The foundation actively supports high-visibility law enforcement, education, technology and court-monitoring to position Montgomery County not just as a leader in combating drunk driving but as a locality which will eradicate this killer.
His efforts have already earned the support of county Executive Ike Leggett, Police Chief Tom Manger, numerous county agencies, advocates and concerned citizens who share his vision to eliminate drunk driving. Period.
For his admirable efforts to end drunk driving, please join me in congratulating WRAP's 2018 Public Service Awardee, RICH LEOTTA.